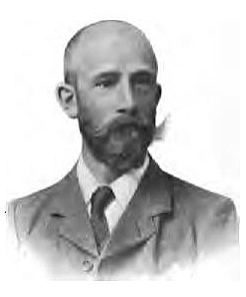 Dr Aart Jurriaanse born on 19 November 1873 in Kralingen, studied medicine in Leiden and completed his medical training in 1897.

When the Anglo-Boer War (Second Boer War) broke out between the United Kingdom of Great Britain and Ireland and the South Africa Republic (Transvaal Republic) and the Orange Free State in 1899, public opinion in the Netherlands was clearly on the side of the Boers.

Dr Jurriaanse arrives in Pretoria on 13 January 1900 to offer aid to the Boers with a fully stocked ambulance he provided for himself. Thanks to his bold personality, "brutality" (as the Dutch calls it), he gathered together supplies and helpers and departed to the then front-line of the war at the Orange River battlefield. During the first setbacks of the war, he moved back to Bloemfontein, where he received leave from Lord Roberts (Commander-in-Chief of the British troops) in person to drive the ambulance back and forth through enemy lines.

He provided aid at the Battle of Donkerhoek in June 1900 and was also present at the last set-piece battle of the war at Berg-en-Dal (Battle of Belfast) in August 1900. After the battle he stayed active in the Ermelo district with a field ambulance commandeered from the British after a previous skirmish. He repainted the ambulance and used Dutch wording so that the British would not recognise the ambulance as one of their own.

During the guerilla warfare phase and to the end of the war in 1902, Dr Jurriaanse provided invaluable medical support as the only field-ambulance and hospital in the whole of the South-Eastern Transvaal. After the war he had to complete his dissertation at a British University in order to practice as a Medical Doctor in South Africa.

In January 1904 Dr Jurriaanse settled on his farm Kralingen and continued to practice as a physician in Ermelo. He started farming with pigs on Kralingen using traditional Dutch techniques of feeding the pigs acorns which is said to be key to both the texture and rich flavours of Dutch pork. The oak tree lanes on Kralinbergh still stands as testament to the thousands of oak trees Dr Jurriaanse planted on the farm.

Although never one to seek fame himself, as put in his own words: "Het is verschriklik vervelig om oral waar men kom een held bewondert te worden", he was seen and remembered by the Boers and the community as a hero. This is evident in a letter written by Genl Louis Botha (later on the first Prime Minister of the Union of South Africa). Genl Botha writes in 1902 that he believes that no other doctor during the war provided better medical assistance and made more personal sacrifices than Dr Jurriaanse.

Dr Jurriaanse passed away on 22 May 1970 in Pretoria at the age of 97. The house and the farm on Kralinbergh lives on as a tribute to this formidable gentleman.